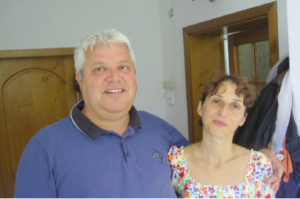 Gigi writes 3 short glimpses about accidents and sufferings, which somehow opens up for the Gospel among the roma people around Câmpulung.
This sunday evening a man called from Gamacesti for Nitu. He wanted to come to the church, where he said: "I want to know more of God and to be attached to this church". This was tough saying since one of his children recently died only 4 months of age.
Nicolae Prundaru from Dragoslavele has had a hard time with a liver-disease. He was in hospital for a time, and when he came back from the hospital, he wanted to receive Jesus in his heart. Now he has asked to have 3 meetings every week for a bibelstudy together.
Today (9/2) a man, Marius Brumaru, fra Dragoslavele broke his leg working in the wood. He had to be brought to the hospital for an operation – maybe an amputation.
We pray that he may be stopped, so he will end up giving thanks for the forgiveness of sins in Christ Jesus.