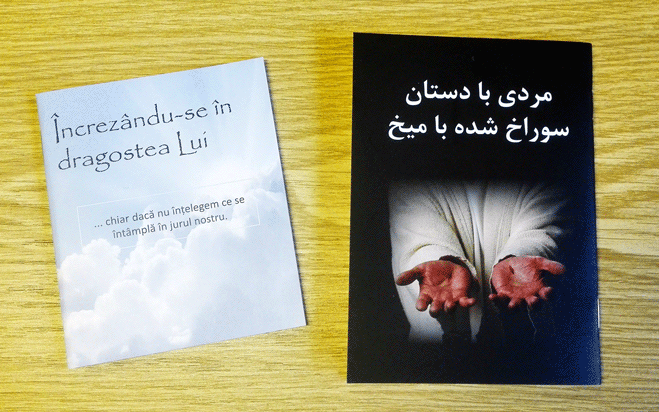 Finally, they arrived. Two small booklets in Romanian and Farsi have arrived at DBM.
"Trusting in his love"
This book is a small and simple explanation of, why we as humans can and will meet pain and suffering in life. It points out, that it is not because the person hit by suffering has more sin or guilt than others. By that, it battles the misunderstanding, that there is a causal relationship between accidents and sin/guilt. No – suffering and pain have its reason in sin, as the wage of sin. At the same time, the booklet speaks of how God in some situations can use the most difficult situation to bring a person closer to himself. We though cannot make a common rule about that.
The booklet, which DBM now has in both Romanian and Tagalog (language is spoken at the Philippines), has 20 pages and is easily shared.
"The Man with the mark of the nails"
This booklet in Farsi is at the strong retelling of the Iranian woman, Hamideh's life from when she travelled to Norway first became radicalized as a Muslim – but then through a line of events were brought to believe in Christ. The article has been published in Danish here  – on the basis of some articles in Norwegian. It has been translated into Farsi by a resident at the exit center Kærshovedgaard. It har 32 pages and are free for hand out.