This can almost only be described with images. See how children and adults in the Roma villages around Câmpulung in central Romania responded to the almost 2000 family Christmas packages that DBM's staff have handed out this December month.
Two brothers in Aninoasa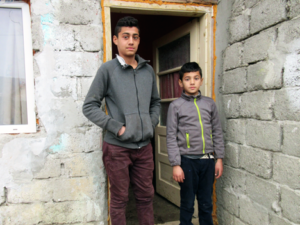 Gigi, Virgil and Adrian were received by two brothers at the entryway to the Roman village of Aninoasa. The two boys lost their father well over a year ago, after which their mother travelled with another man out of Romania with their little brother. Now they live alone and work for granted and live by the help of others (their father was a cousin of the village leader). However, before his father died, he had taught them to believe in Jesus as saviour and helper, which is a comfort for the two boys. They received an extra Christmas help from DBM before the packages were being handed out in the streets to the families: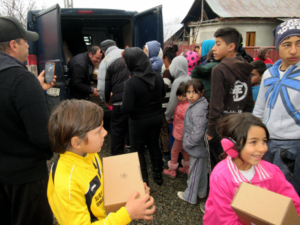 In DBM's house in Cetateni
In Cetateni, many were gathered. It is so good to have the opportunity to gather up to 200 children from the village in DBM's house here in between the mountains. It is a pleasure to observe how Adrian is so close to the children – and to see the joy when they go home with their Christmas package.
Schitu (Lazaresti)
The new children's house in Schitu were the room for a children's meeting with parents before handing out the packages here. Here too there were happy children's views (and parents alike).
On the street in Slanic
DBM does not have a house in Slanic. The Roma village is not so big and is nestled between forests and smaller mountains north of Aninoasa. The need to hear the message of Christmas and to receive the handed out help is still very much there – and the joy of receiving is profound.
In Dragoslavele
There were many children and adults in Dragoslavele that evening, gifts were shared. Maybe more than 200, so all the packages to the city disappeared. It was good. There was also good responsiveness to the preaching of the gospel of Christmas.
Gamacesti – again many attended
Also in Gamacesti, there was a large attendance. The 300 packages that were intended for the city also gave almost everyone a hand to go home. It's great to see the children's eyes when they open up children's books, candy and food for the family.
Finally – Valea Marcelarului
Last village on the round – but also a great pleasure and great joy over the Christmas collection. Shortly before, DBM's staff had been visiting with some clothes for the most vulnerable families.