To be handicapped is always a challenge. So it is even more if the handicap strengthens the challenges in the conditions you live under. So it has been for the Roma-teenager Mihaita to be handicapped in his eyes.
Ophthalmologists found him
Mihaitas situation was discovered in the summer of 2015 when DBM had a team of ophthalmologists visiting Cetateni. He had congenital cataracts on both eyes. After the eye doctor's recommendation, he should as soon as possible have a surgery on both eyes. The surgery could only take place at the University Hospital in Bucharest with financial support from DBM. Surgeries took place in October and December 2015.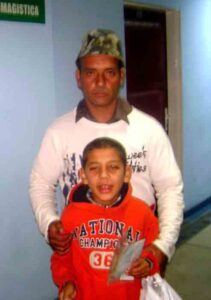 The most simple
When you have not been able to see, there are really many things you have not been able to learn. Therefore, after the surgery, Mihaita had to learn the basics of everyday life. It has been to begin to distinguish between shapes and consistency with things around. It has been to name everything with the common names. He has also had to learn to distinguish between colors.
Finally, learning to read and do in school has been a big challenge, because he had to start all over again. In April 2016, Adi announced that Mihaita had begun to use a mobile phone and a month later, he managed to ride a bike.
Possible "cloudy vision"
During 2017, Mihaita's eyes began to become veiled as a so-called "cloudy vision". It happens between eyes that are operated for cataracts because the eye can be perceived as blurred.
Happy participant

However, in connection with this year's summer camp in Cetateni, it was a great pleasure that Mihaita participated on an equal level with the other children and adolescents. DBM's employee, Adrian, has also met him every Friday and happily, Adi could also tell that the rumor that was about Mihaita having cloudy vision has nothing to it. Instead, Mihaita develops fine and is a happy participant in DBM's events.