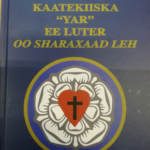 Over the summer, DBM's publishing work has taken new perspectives.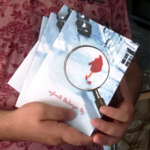 Luther's small Catecism has been made available for converting and baptism training in Somali. It is published by LHF and can be ordered via DBM.
Secondly, there has been a contact in Georgia, which has resulted in the release of two books there. Since Georgian is a language with its own alphabet (as can be seen from the pictures right), it was a special challenge to get the books done. Two women from the Lutheran church in Georgia show one of the books here.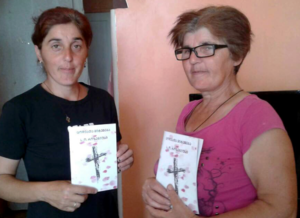 Translated in to multiple languages
The two publications in Georgia are the book "The Forgiveness of the Synod" by C. O. Rosenius (already available on Farsi – and soon published in Romanian). This book was originally published by the Swedish "Luthersk Litteratur Mission". It is also the book "Jesus found me" by a number of Norwegian writers / published by "På Bibelens Grunn". The last one will also be published soon in Romanian. Both books can be ordered from DBM in both Romanian and Georgian.
Mini books in Albanian
In collaboration with pastor Jimmy Svenfelt in Albania (and BDM in Denmark), DBM has published the three mini-books in Albanian. Jimmy Svenfelt is sent out from the Laestadianernas Fridsföreningars Förbund (LFF)  and is now working in the Tirana area. Read more about the mission work here and here. Albania is a country where most people are Muslims – and where many Roma's live. The mini-books in Albanian are primarily sent to Tirana, but it is also possible to order them at DBM HERE.