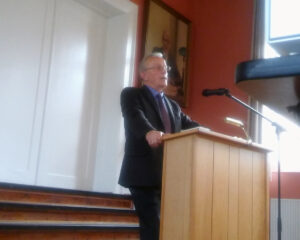 Friends of Danish Balkan Mission (DBM) in Romania met on 29 April to annual meeting in Gram parish hall. It was a good evening when Egon Jensen, Haderslev spoke about the expression "You are salt of the earth" from Jesus' Sermon on the Mount.
At the general meeting after the coffee DBMs Chairman Niels Arne Skov, Brændstrup presented the company's annual report for 2015 about the many activities that have been in Romania in the past year as well as the book projects almost worldwide.
From Romania, among others, he mentioned construction of a multifunctional center in the Roma village Cetateni and several transports of medical and social material. From the book project he mentioned the publishing of the devotional book "Only one thing needed" in Spanish in both Europe and South America in cooperation with the Norwegian company "Sarepta" in 2015.
The financial statements were approved and the outcome of the election for the Board was, that Lisbet Kaas, Brændstrup and Gerda Skov, Brændstrup were re-elected.
Later Knud Skov, Herning took the audience on an interesting trip to Romania. There were several issues, that showed the need to continue the work of the resident poor Roma population in Romania.
The Vice-President Niels Peder Nielsen, Silkeborg, completed a good evening.