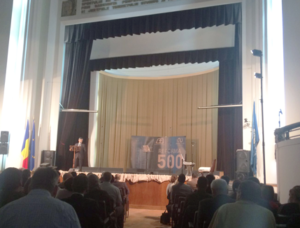 As two of DBM's employees in Câmpulung have begun a part-time study in theology, they have taken part in a celebration of the Reformation Celebration in Bucharest in November. It was celebrated jointly by Romania's different churches at the Baptist Church's theological institute. Since the institute has academic accreditation, there are students from different church denominations there. It was celebrated in "Magna Aula" at the Faculty of Law at the University of Bucharest.
Honorable guests
There were foreign guests (eg. the United States), and from both politically and culturally recognized organizations in Romania. The head of the University Bureau participated; a leader of the Roman Catholic Church's organization in Romania participated. There were some parliamentarians and a former National Secretary of Culture. The speakers repeatedly emphasized that during the communist times it would not have been possible to hold such a gathering to celebrate ecclesiastical anniversaries.
Discussion there
The Catholic Church participant tried to suggest that Luther only tried to raise a public debate about the 95 theses and not at all would have wanted a reform or a total change in the Catholic Church. This led to a discussion about what the Reformation has brought of important changes. There was also a focus on the five Sola expressions (Sola = alone) with Faith alone, Grace alone, Christ alone, Scripture alone, and Only God shall have glory. In addition, there was great joy about how the Bible has become available to everyone.
Lutheran pastor
There was also the pleasure of coming to know Sorin Trifa. Sorin, pastor of the Romanian Confessional Lutheran Church in Bucharest (for whom DBM has just printed a Romanian translation of Luther's Small Catechism) who is in the process of a PhD-dissertation on the role of the Churchs liturgy in bringing salvation from a Lutheran theological and liturgical view at the University of Bucharest.