To open contact with the neighborhood and others in the city the congregation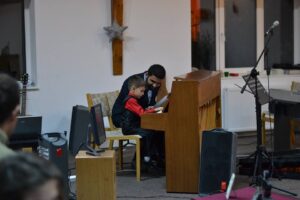 in Pucioasa in the fall of 2015 began running a music school.
Solomon Turculet is in charge of this school. Solomon studied at the music conservatory in Oradea at a 4-year musical education.
He has for years led the church choir and has recently begun to operate the music school. The school now has 13 students.
Being able to play music has high status in Romania. Therefore there is several asking to visit the school. At the same time Solomon has attention at the need to improve the quality of the instruments they have at the school.
The students get both individual teaching and are doing an ensemble as well as singing in a choir. It gives the opportunity to invite for concerts where parents and friends of the students can come. Below pictures from the Christmas concert and a small video from another concert.