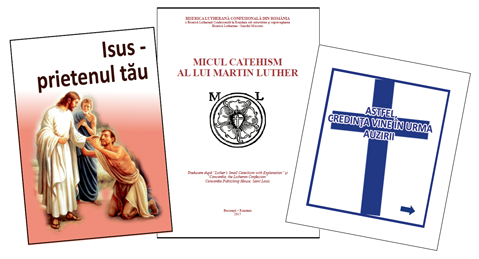 As DBM are about to send family packages to Roma villages in the Arges area of Romania, 2 new booklets to be included there have been published. They will be in the boxes together with food and other good for Christmas celebration in the Roma families.
Crossbook = Creed
The one small booklet is a Romanian version of the little crossbook, also found in Danish and Farsi. It contains Bible verses that mirrors the words of The Apostolic Creed. Ie there are Bible words that explain Gods creation of the world, that Jesus became man, died and arose for us – and there are Bible words of the Holy Ghost.
Devotionals for children
The second booklet is a collection of 3 devotionals for children. They are about people in need, who are helped by Jesus. The first is the lonely woman at Sykar well. The other is the ten excluded lepers that are cleansed by Jesus and the third of the disciples who can not catch fish. As Jesus then entered into the lives of those people and helped, he will also do today.
Luther's Small Catechism
At the same time, DBM has printed a new translation of Luther's Little Catechism. It is a translation made by the Romanian Lutheran church in Bucharest. While DBMs is sending part of them to the church in Bucharest, some will also be kept here in Denmark to meet a growing demand here.
All three small books can be ordered from DBM's page: book ordering.
BLIV MEDLEM AF DBM – for 50,-/året hjælper du DBM at fastholde fradragsret for gaver – se HER hvordan.